Cool Gifts For Singers & Singers-to-be
There are times when we singers need a lot of input from an expert who knows what it means to be an evolving vocalist. I have taught singers of all ages and many styles over the past 30 years. And I have been singing and performing even longer than that!
Here are several cool gifts for the singer in your life – (You, perhaps?) –  or for that special person who has always wanted to sing, but just needs a little loving push… To see more options, you can also visit the Gift Shop. But here are the best sellers!
 COOL GIFTS THAT GET YOU SINGING!
Lessons & Consultations
Barbara's Trio Lesson  -  Starter Package  3 half-hour lessons to get you started singing! This package is especially for the singer over forty who is very shy about getting started. I have worked with many singers who simply could not bear to sing in front of anyone – yet they still wanted to sing.
"Sing a Love Song For Your Love!" - You may not be a singer –  per se, but you have a voice and perhaps your spouse loves to hear you sing. If that is you, let me teach you how to sing just one song much better than you ever have before. Surprise your loved one with a special, command performance of a song that she/he adores! There is no gift like it. For yourself and for your lover.
"Get Started On Your Dream!"18-page E-Guide plus 20-minute Vocal Warm Up.  If you know someone who has always wanted to sing, but just could not find the energy, courage or opportunity to do so, give him or her this Guide and Warm Up as a very unique gift – and a gentle, but firm push in the right direction.
"Ask Barbara! Questions about YOUR Voice? - Voice Consultations. 15-minutes and 30-minutes – by Skype.
You know, sometimes singers (& hopeful singers) just need to talk with another singer, a sympathetic expert,  who has been in the singing world for a long time. She or he may not want a lesson. They may simply want to talk through some things that are worrying them or puzzling them about their voice or about a song or an exercise…

COOL GIFTS THAT GET A SINGER LISTENING!
WARM UP YOUR VOICE!
Sing With Me – 20-minute Vocal Warm up - I have created a simple vocal warm up recording on MP3 that beginning singers of all ages will enjoy. (You download the MP3 and use it on your player). I lead you through some easy, but enjoyable vocal exercises. First, I sing with you. Then you are encouraged to sing alone. Read more in my Gift Shop.
COOL GIFTS FOR A SINGER'S STUDIO
Record Your Voice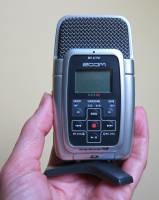 ZOOM! H2 VOICE RECORDER – EASY & INEXPENSIVE! - This makes a great gift!
Here's what I use for my daily vocal needs… The Zoom H2 Portable Stereo Recorder. Over the years I have owned many different kinds of musical devices – from cassette recorders to multi-track sound recording machines. Lately, for my most common needs, I use The Zoom H2! You can see the size of it in the picture on the left. And click the link above for my full review!
Back from Cool Gifts to Welcome From Barbara Lewis